Document ID
MDS004
Title
Board Policy 200 Series: School Administration and Daily Operations Policies
Print Date
07/22/22
Revision
2.0
Prepared By
Sean Anderson / Board Secretary
Date Prepared
07/25/21
Effective Date
09/23/2021
Reviewed By 
MDS Board Oversight Work Group
Date Reviewed
09/07/2021
Approved By
MDS Board of Directors
Date Approved
09/22/2021
Policies adopted by our Governance Board that pertain to how the school operates and is managed on a day-to-day basis
For the purpose of clarity and efficiency, these policies may refer to the Board of Directors as "Board"; Milestone Democratic School as "School" or "MDS"; Educators Cooperative as "EC"; School Design Team as SDT and the Office of Educational Opportunity of the University of Wisconsin, Madison as the "Office".
Non-Discrimination Statement
The following non-discrimination statement is applied to any and all policies and procedures guiding the operation of Milestone Democratic School.
The School is a public school and shall not discriminate on the basis of sex, race, religion, national origin, ancestery, pregnancy, marital or parental status, sexual orientation, or physical, mental, emotional, or learnning disability.
Nonsectarian Practices Statement
The following non-sectarian statement is applied to any and all policies, procedures, programs of the School.
The Milestone Democratic School shall be nonsectarian in all its programs, admissions policies, employment practices, and operations. 
Flow Chart for School Administration and Daily Operations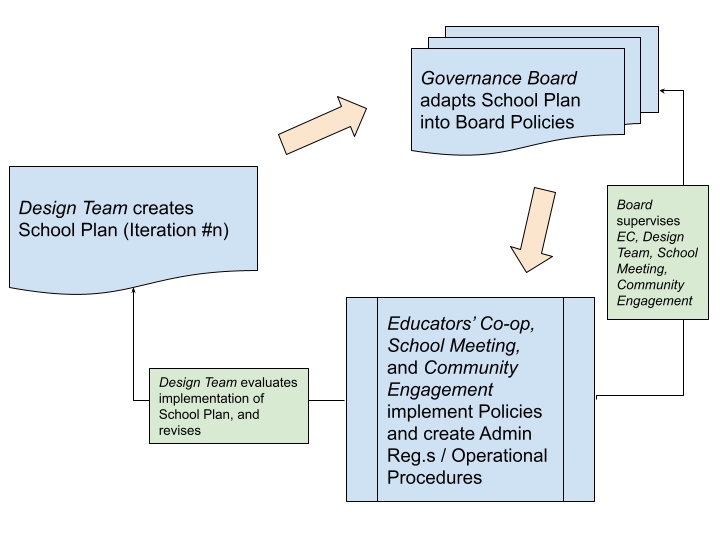 Policy 200: Recruitment and Hire of Third Party Independent School Management Service
From Milestone Democratic School's "School Plan – Iteration #2.0" (approved by the Board of Directors on Wednesday, July 28th, 2021):
"In order to live out our democratic values and commitments, the Governance Board of Milestone Democratic School Incorporated will not act as a direct employer of any staff working at the school. Instead, the Board will contract for these services with an explicitly democratic staffing entity, such as an Educators' Cooperative ("EC") and/or a Teacher Professional Practice ("TPP")."
Accordingly, the School shall, before the end of each school year, publicly post a Request for Proposals ("RFP") for any Teacher Professional Practice and/or Educators' Cooperative which desires to operate, manage, and direct the School for the following year. Any such RFP shall be made available on the School's website, and other public posting venues as determined by the Board, for a minimum of 30 days. The Board shall review all proposals received and make a determination based on qualitative and quantitative criteria, recorded publicly in an open meeting, and shall enter formal contract negotiations with the TPP/EC selected immediately upon approval of a proposal.
Policy 201: Role of Independent School Management Service
From Milestone Democratic School's "School Plan – Iteration #2.0" (approved by the Board of Directors on Wednesday, July 28th, 2021):
"The agency or entity which provides staffing for Milestone Democratic School must provide competent and responsible individuals and teams well-equipped to deliver the following services to the students, families, and Governance Board:
Academic / Social / Emotional Advisors
Social Services Navigators
Mental Health Navigators
Career & Postsecondary Counselors
Food services & Food Curriculum Coordinator
School Finance Manager
Director of Special Education
Special Ed Case Manager and Instructor
Math Instruction Expert
Reading Instruction Expert
EL Coordinator
Internship & CTE Coordinator
Front Desk Attendant
Attendance and Enrollment Manager
Health and Wellness Attendant
Transportation Coordinator
Course Instructors
Justice Coordinator
IT Coordinator
District Assessment Coordinator
Staff Assessment and Evaluation Coordinator
Design Team Facilitator
Substitute Teachers"
Accordingly, the School shall annually contract with a TPP/EC to provide all academic instruction, operations, daily school management, and student services. The contracted entity shall provide all staffing described above, and any additional services as directed by the Board in the contract with the entity.
Policy 202: Responsibilities of Independent School Management Service
The School shall dictate all responsibilities of the TPP/EC under agreement with the Board in plain language in the annual contract for school operation services. In addition, the Board shall provide oversight and evaluation of the contracted TPP/EC throughout the term of the contract.
Policy 203: Temporary Administrative and School Operational Arrangements
In the event that a contractual agreement with a TPP/EC shall terminate before a new contract has been executed (i.e. during the summer break between academic years), the School shall either contract with the out-going TPP/EC for temporary administrative and operational services, including transition services to the in-coming TPP/EC, and/or shall contract with the in-coming TPP/EC for temporary services before the implementation of the master contract for school-year services.